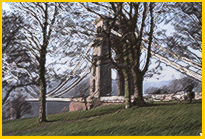 Gifford Internet Services (GIS) ia a Bristol based Internet Service Provider (ISP).
We provide a wide range of Internet related services to business organisations, educational establishments and home computer users throughout the United Kingdom. Our aim is to provide a friendly, high quality service at a reasonable price.
Our speciality is the tailoring of solutions to meet our clients' requirements. From a simple Internet connection to a sophisticated corporate email system, we can design, install and maintain a tailor made solution.
At Gifford Internet, we constantly review our services and welcome suggestions and comments from our clients. In order to deliver a high quality service, we always ensure that our provision of service is related to our clients' requirements. Therefore, our user-to-modem ratio and the speed of our backbone connection are optimised to ensure that clients can reliably connect to our access servers and achieve high download speeds.
For further information, please contact us.
Email: admin@gifford.co.uk

Phone: 0117 9118735
Fax: 0117 939 7733